I HAVE PUT THIS PAGE TOGETHER FOR MY STUDENTS TO AID THEM IN
FINDING DESIGN TOOLS ON THE INTERNET AND THOUGHT THEY MAY BE
OF GENERAL INTEREST
Design Tools
Animation & Graphics
Sound Files
Java/Scripting
Counters, Guestbooks
Free Web Hosting Sites
Misc.
My Favorite HTML Editor
Can Download Trial Version or Purchase Here: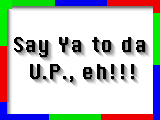 http://www.web-animator.com/
This site allows you to make animated text. You just choose what you want, fill it in and then right click to save the graphic you've made out of text and put it on your page.




http://www.mediabuilder.com/abm.html
This is another banner making site which is a bit different. Just like the one above you just pick out the banner and fill it in. Then you have to copy and paste the html they give you into your web page.




GOOD PLACES TO GET GRAPHICS, BACKGROUNDS, ETC.
http://www.mediabuilder.com/graphicsfree.html
http://www.thefreesite.com/webmaster.htm
http://www.zzpixel.com/grabngo/index.htm
Be sure to observe "copyright" restrictions on this site!!
SOUND FILES
(midi files load faster than other sound files--most are keyboard songs)
If a menu shows up when the song is playing can save from menu,
or right click on the crescendo player and choose "save as"
To download Crescendo to play the midi files click here:

HtmlOthello ©1997-98 Streetmedia

ADD A POLL/SURVEY TO YOUR SITE:
http://www.freepolls.com/
"see -- told you making basic web pages can be fun & easy!!!
Keep checking back for more links as we continue on our Cyber Design Journey!
What I have discovered about my students building websites with them:
(I'm sure this list will get longer--students feel free to email me with your additions)
Aaron & I are both Billy Joel fans
My second hour class doesn't like Accordian Music
Aaron & Mark's Role Models are actually "models"!!
Procrastination & Senioritus is alive and well at MHS
Various Midi Sounds coming from 14 speakers at one time can be defined as "ear pollution"
VISIT MY OTHER PAGES:
|| HOME |SCHOOL LIFE|PSALM FOR SINGLE PARENTS|
|TRIBUTE| FAVORITE PEOPLE| LOYAL FRIENDS|